A support group for Crossdressers, Transgenders, and their Families in Central Florida.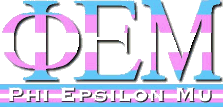 Our Mission: PHI EPSILON MU (FEM), is a not-for-profit, non-sexual support and social group of primarily part-time transgender and their wives, partners, and friends. We provide a secure, friendly atmosphere where Transgender folk can associate with others sharing their lifestyles, fears, and concerns while exploring their transgender selves in order to achieve self acceptance. Our members enjoy expressing the feminine side of their personality. We are not a fetish or exhibitionist group. If you are looking for friendship and support you have found the right place".
Phi Epsilon Mu (FEM) is a non-sexual support group for all Transgender People in Central Florida. This page defines who we are and who we are not. We welcome all on the Transgender spectrum (that is, CD/TG/TS) and if in a relationship, their wives and partners to our meetings, and providing information about gender community resources and things to do in the Central Florida area.
While estimates differ, some experts have estimated that there are eight million men in the U.S. alone who feel the need to wear the clothing of the other gender and to express what psychologist Carl Jung has called their anima, or the "feminine side" of their personality. Being Transgender is a phenomenon that has been found throughout history in all cultures. It exists worldwide today.
If you are a full-time or seasonal resident of Florida and would like to join our group, we welcome you. If you are Transgender or a member of the gender community by any name (or the spouse or partner of a Transgender person) and you need advice or support, we are here to help. You are not alone. You are not mentally ill or a pervert, so Relax! Enjoy! Welcome! If you're in a relationship and have a wife or partner, we have active wives willing to work with you wife or partner. We hope that your wife or partner will choose to participate.
Phi Epsilon Mu is also known as FEM for short. We have a FAQ Sheet available for anyone who wants to learn more about us. Membership is required to receive our monthly newsletter and have access to our Private online chat group. Our members come from all over Florida and many enjoy associations with other Transgender support groups in other parts of Florida. Since these groups are often in transition, if you need information on groups in other areas, email and we will try to help.
Our meetings are primarily social in nature. We normally furnish a changing room for members or guests unable to arrive dressed. In addition to dinner or snacks, we socialize, hold a very brief "business meeting" consisting of recognition, appreciation, and announcements, and feature speakers, presenters, or fun activities. We DO NOT get into long, boring discussions over finances, by-laws, etc. Our primary purpose is to help you become comfortable with yourself and achieve Self Acceptance. Often, we discuss unique problems or provide support to those who might need it. Additional fun begins after the meeting when small groups of members who want to be more adventuresome visit one of the several bars and clubs in the area that welcome us.
Our monthly meetings are not limited to the Saturday night affair. We host a group who go to "Girls Night Out" GNO dinner the Friday night before the monthly meeting and Saturday afternoon prior to the meeting. Dinner and drinks are enjoyed as a group in a local gender-friendly restaurant at varying venues.
Saturday is shopping day for those who wish to visit local malls and stores. A list of gender friendly stores, bars, clubs, restaurants and other resources in Central Florida guide our members in finding places to go and things to do.
Sunday morning following the meeting will almost always find members en femme and en drab at the host hotel for breakfast.
We have a great group made up of very nice people. People who aren't nice don't stick around. While the attendance varies with the season due to so many seasonal Floridians and winter visitors, we always have a good-sized group and a great meeting weekend. If you're out of state and want more information on visiting us during one of your vacations to Florida, please contact us in advance of your trip for an interview and a copy of our rules of decorum. Every Florida and South Georgia Trans person should visit and will benefit by joining our group. We have members from all over Florida, as far away as the Keys and the Panhandle, who travel to Orlando to meet with us.
It's often said that people who fall under the "Transgender Umbrella," ultimately find their place along what's termed the "Gender Spectrum" with beginning Crossdressers at one end and fully transitioned Transwomen at the other. No matter where you identify or eventually end up, we've all got to start somewhere and grow throughout our lives. When a member's needs move beyond our area of specialty, we'll help you to find the resource that meets your needs.
We have an active outreach program to help assure that no Transperson suffers alone in their closet thinking they're the only person who feels the strong need to express their full personality. To help newcomers just finding our home page to understand who they are and that they are not alone, we offer many links to other wonderful gender sites and resources. You're not alone and you're not abnormal. Please let us help you discover your true self and achieve the Self Acceptance you need to find your place along the Gender Spectrum.

Welcome to Phi Epsilon Mu
Support for the Transgender Community
Please Read This First!
Throughout this website, the terms Crossdresser, Transsexual, and Transgender are used. Unfortunately, labels are used to force us into neat little boxes, but we're each different in our own way. Still we have to use terminology in our writings, so throughout this site, the words Transgender, Trans, or Transperson are used as an umbrella term to denote everyone who identifies as Gender Variant. Whether you identify as a Crossdresser, pre-op, post-op, no op, whatever, we're using the blanket term Transgender.